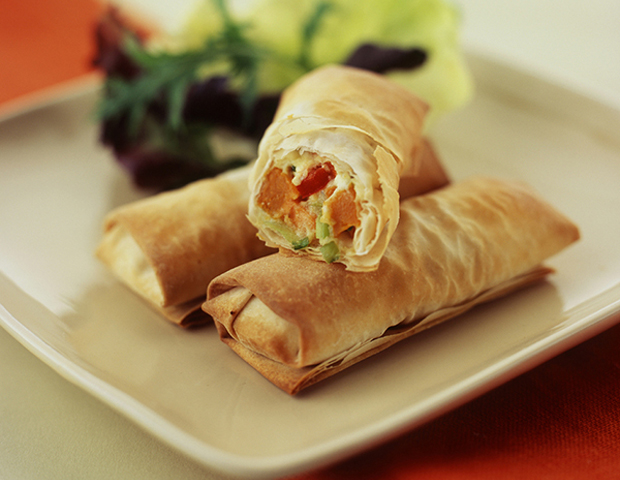 THE DAIRY KITCHEN
Cheesy Roasted Vegetable Filo Rolls
By THE DAIRY KITCHEN
A healthy version of a spring roll, these are a great way to get kids to eat vegetables as they are hidden in crispy pastry and melted oozy cheese.
Ingredients
2 cups mixed vegetables, cut into 0.5cm cubes (carrot, sweet potato, red capsicum, pumpkin)
cooking oil spray
3 spring onions, finely chopped
80g reduced fat ricotta cheese, crumbled
50g low salt feta cheese, crumbled
125g grated 50% reduced fat cheddar cheese
1 tablespoon finely chopped basil
freshly ground pepper, to taste
1 egg, lightly beaten
15 sheets filo pastry
green salad, for serving
Handy Tips
Recipe is reduced in sodium (salt) containing between 120-350mg/100g.
Nutrition (per serve)
| | |
| --- | --- |
| Energy (kj) | 615 |
| Sugars (g) | 3 |
| Protein (g) | 9 |
| Dietry Fibre (g) | 2 |
| Fat Total (g) | 3 |
| Sodium (mg) | 273 |
| Saturated (g) | 3 |
| Calcium (mg) | 173 |
| Iron (mg) | 1 |
Method
Place vegetables in a baking tray and spray lightly with cooking oil spray. Bake at 200°C for 20 minutes, turning occasionally, until golden brown and cooked through. Cool.
Combine the roasted vegetables, spring onions, cheese, basil, pepper and egg in a bowl.
Cut filo sheets in half crossways. Lightly spray each filo sheet with cooking oil spray and fold in half again. Place 1 tablespoon of vegetable mixture 2cm from the top edge of pastry. Fold in the sides of pastry and roll up to enclose filling.
Place filo rolls on a non-stick baking tray and lightly spray with cooking oil spray. Bake at 200°C for 15 minutes or until lightly browned. Serve warm with a salad, if desired.
---