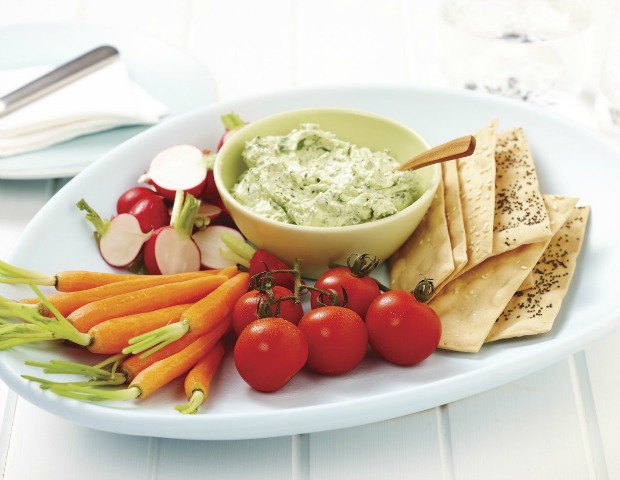 THE DAIRY KITCHEN
Basil, Lemon and Pinenut Dip
By THE DAIRY KITCHEN
Serve this dip at your next barbecue and you will be hunted down for the recipe.
Ingredients
125g reduced fat cream cheese
1/2 cup basil leaves
3 teaspoons toasted pinenuts
1 small clove garlic
1/2 teaspoon finely grated lemon rind
freshly ground black pepper, to taste
24 crackers, for serving
fresh vegetables, for serving
Handy Tips
This is a simple and delicious dip to serve at a party. Try using the leftovers as a sandwich spread. Dinner Tip! Creamy Chicken Filo Parcels: Spread 1 tablespoon of this dip over half a skinless chicken breast, top with slices of mushroom, wrap in 3 layers of filo pastry, like a parcel. Spray lightly with olive oil and bake for 35-30 minutes until golden and chicken is cooked through.
Nutrition (per serve)
| | |
| --- | --- |
| Energy (kj) | 602 |
| Sugars (g) | 16.9 |
| Protein (g) | 5.9 |
| Dietry Fibre (g) | 1.4 |
| Fat Total (g) | 3.8 |
| Sodium (mg) | 90 |
| Saturated (g) | 2.3 |
| Calcium (mg) | 209 |
| Carbohydrates (g) | 17 |
| Iron (mg) | 0.6 |