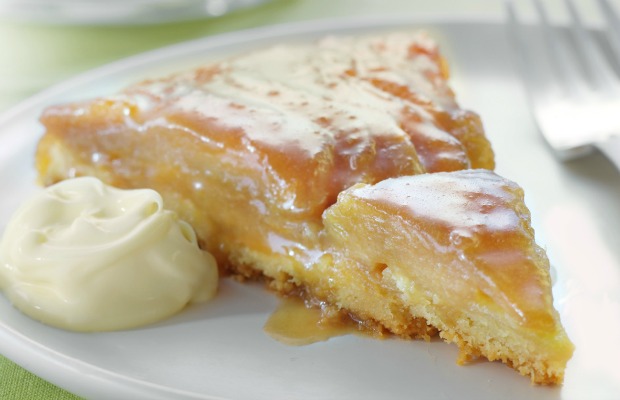 THE DAIRY KITCHEN
Apple Tarte Tartin
By THE DAIRY KITCHEN
Nothing beats this traditional French dessert with caramelised apples with a crispy flaky pastry.
Ingredients
2 cups plain flour
125g chilled unsalted butter, cubed
1 egg
1/4 cup caster sugar
2 teaspoons water
4-5 apples or pears, peeled, cored and sliced
100ml water
2/3 cup caster sugar
1 1/2 tablespoons fresh lemon juice, extra
50g unsalted butter, cubed, extra
Handy Tips
For picnics, transport this tart in the flan dish and turn out just before serving.
Method
Blend flour, butter, egg, caster sugar and water in a food processor until pastry comes together. Form into a ball, flatten, wrap and refrigerate 15 minutes. Roll out between two sheets of baking paper to 5mm thickness.
Arrange apple slices in a buttered 25cm round flan dish.
Heat water, sugar and lemon juice, stirring until the sugar dissolves. Bring to the boil without stirring until a golden caramel. Stir in extra butter and pour evenly over apples.
Cover with pastry and trim edges. Bake at 200°C for 20-25 minutes until golden. Cool before turning out upside down onto a dish and serve with cream.
---