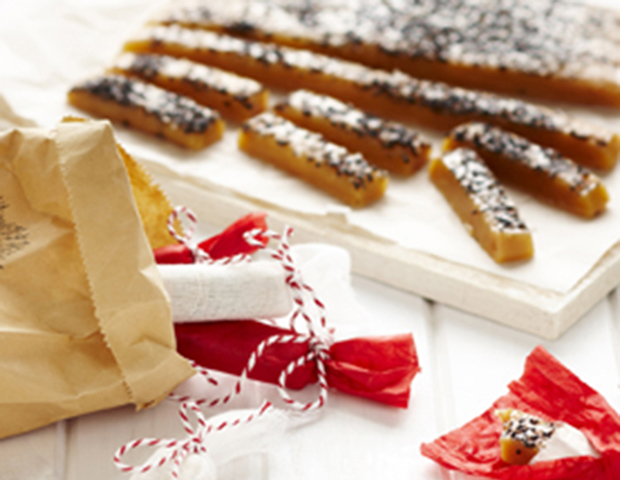 THE DAIRY KITCHEN
Salted Sesame Butter Caramels
By THE DAIRY KITCHEN
Homemade caramels with their buttery creamy texture are so luscious and mouthwatering….these are studded with sesame seeds and make perfect edible gifts.
Ingredients
600ml thickened cream
2 1/2 cups caster sugar
125g butter, chopped
1/4 cup glucose syrup
1 teaspoon salt flakes
1 tablespoon toasted black and white sesame seeds
Handy Tips
TIP: Be careful, as the mixture can bubble up rapidly if the temperature is too high. Keep a careful eye on it and make sure you use a large saucepan – a stainless steel pan is best. Glucose Syrup can be purchased in jars from the baking section of the supermarket.
Method
Stir cream, sugar, butter and syrup in a large heavy-based saucepan over medium heat until sugar is dissolved. Bring to the boil, without stirring.
Place a candy thermometer in pan. Reduce heat slightly and boil carefully, without stirring for about 30 minutes or until mixture reaches 118°C (soft ball stage). To test whether it is done, drop a small spoonful of mixture into a glass of cold water. When cold, the caramel should be pliable. Carefully scrape any foamy build-up from around the inside of the pan with a metal spoon and discard.
Pour into buttered side and base-lined 20cm x 30cm lamington pan. Sprinkle with seeds and salt. Set aside at room temperature for 3-4 hours until firm.
4 Turn onto a chopping board and cut into slim bars with a long sharp knife. Wrap in baking paper, then decorative paper and string. Store in an airtight container in a cool place for up to 2 weeks.
---