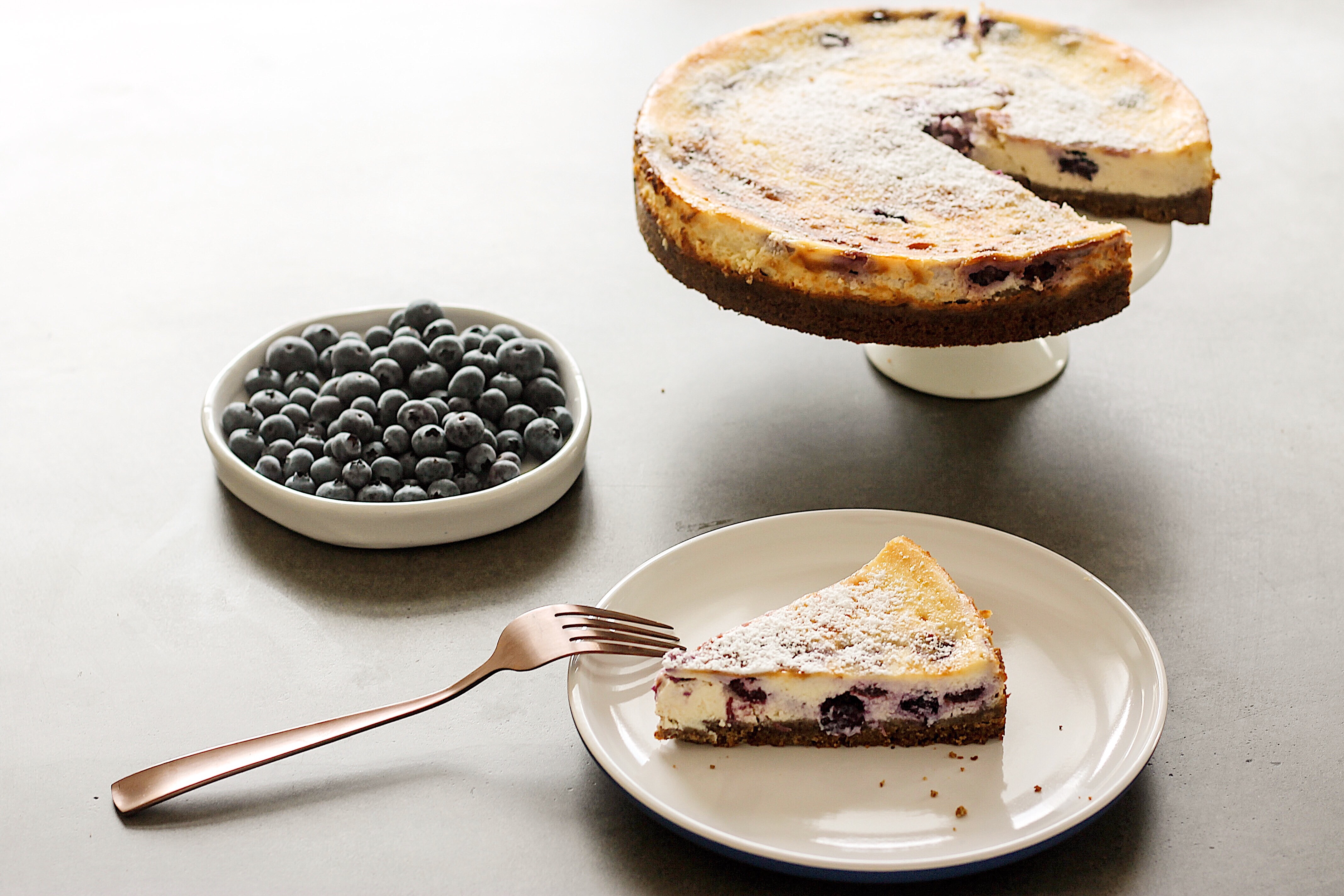 THE DAIRY KITCHEN
Ricotta and Blueberry Cheesecake
By Joel Feren
Created by Dietitian Joel Feren, this delicious baked cheesecake combines three types of dairy, yoghurt, ricotta and cream cheese to create a less rich and lighter textured cheesecake.
Ingredients
200g plain biscuits (eg. marie, arrowroot, milk coffee)
50g flaxseed meal*
140g butter, melted
250g cream cheese, at room temperature
400g ricotta cheese
100g Greek yoghurt
½ cup caster sugar
2 eggs
2 teaspoons vanilla essence
1 cup blueberries
Handy Tips
Flaxseed meal adds texture and fibre to this cheesecake crust. You could also add some chopped nuts, or whole flaxseed for extra crunch.
Nutrition (per serve)
| | |
| --- | --- |
| Energy (kj) | 1426 |
| Sugars (g) | 14.7 |
| Protein (g) | 9.7 |
| Dietry Fibre (g) | 2.6 |
| Fat Total (g) | 22.6 |
| Sodium (mg) | 179 |
| Saturated (g) | 13.9 |
| Calcium (mg) | 113 |
| Carbohydrates (g) | 23.9 |
Method
Line base of a spring-form cake tin with baking paper and grease the sides with butter.
Place biscuits in food processor and process until finely crushed. Add the butter and flaxseed meal and process until well combined. Transfer to the lined pan. Spread the mixture over the base of the tin and firmly pack with the base of a glass. Chill for 30 minutes in the fridge.
Preheat oven to 150°C. Place the cream cheese, ricotta cheese, Greek yoghurt and caster sugar in food processor (clean after crushing biscuits) and process until smooth. Add the eggs and vanilla essence and process until well combined.
Gently fold through the blueberries by hand and pour the cheesecake mixture into the prepared tin.
Bake for 55 minutes or until just set in the centre. Turn oven off and leave the cheesecake in the oven, with the door slightly ajar, until cooled completely (to prevent the cake from cracking). Refrigerate for 4 hours to chill. Serve with fresh berries.
---