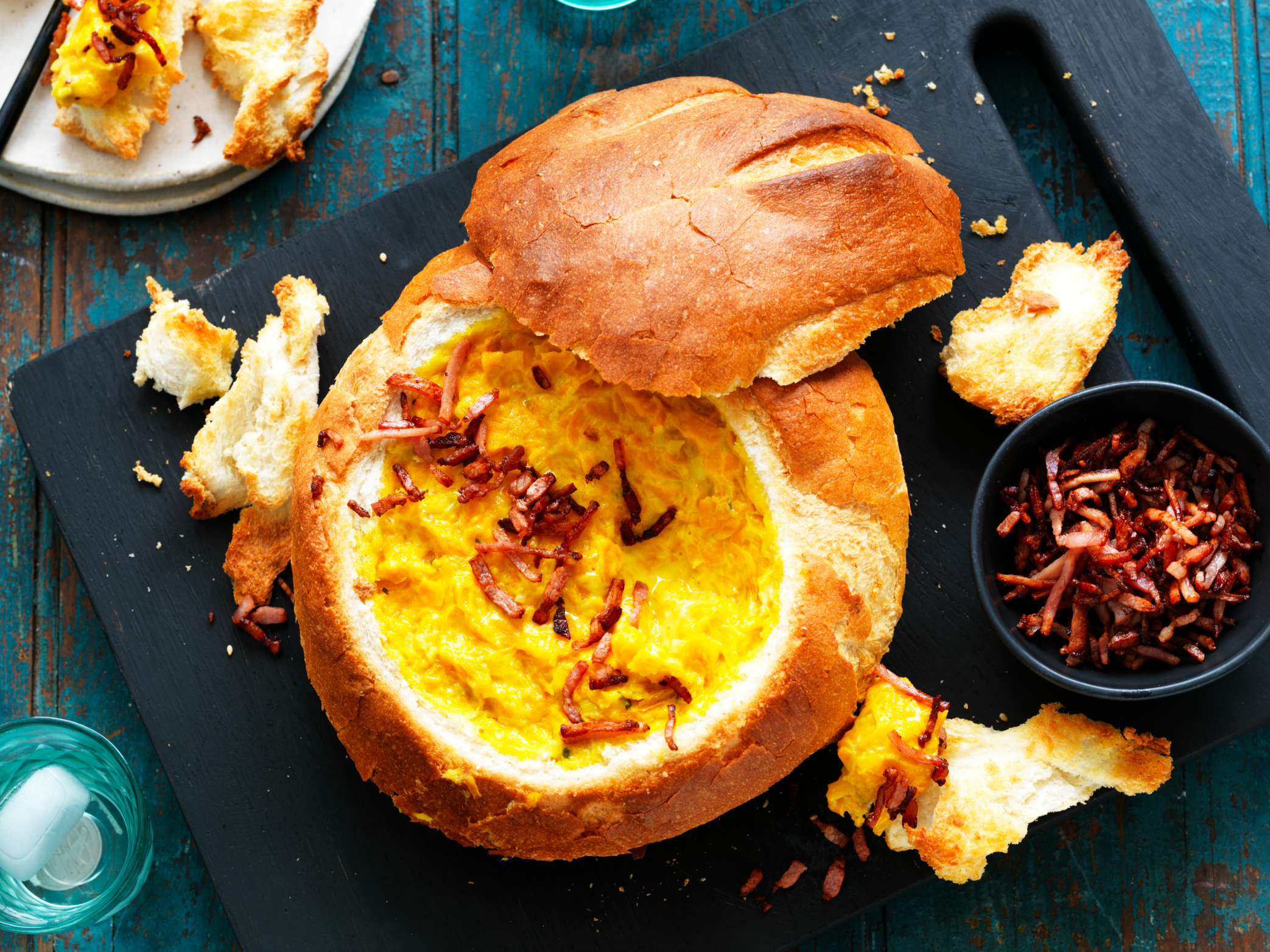 THE DAIRY KITCHEN
Pumpkin, Gruyere and Sage Cob Loaf Dip with Crispy Bacon
By THE DAIRY KITCHEN
It doesn't get more delectable than hot cheesy dip baked in a giant loaf of bread! Great for entertaining..
Ingredients
20g butter
1 leek, thinly sliced
2 cloves garlic, crushed
8 sage leaves, chopped
750g pumpkin, peeled and grated
½ cup white wine
½ cup thickened cream
1 ¼ cups (150g) grated gruyere
1 ½ cups (150g) grated mozzarella
2 teaspoons English mustard
1 large cob loaf
3 rashers bacon, cut into strips
extra crusty bread, to serve

Method
Preheat oven to 180°C (160°C fan-forced). Heat butter in a large frying pan over medium heat. Add leek, garlic and sage and cook, stirring for 2 minutes. Add pumpkin and cook, stirring for 4-5 minutes or until the leek and pumpkin are soft. Pour in the wine and cook for 1 minute or until evaporated. Remove from heat and stir in cream, cheeses and mustard.
Cut the top off the cob loaf and scoop the soft bread out of the centre, leaving a 2-3cm shell. Roughly tear inside bread into bit size pieces to use for serving and reserve.
Lay two large sheets of foil on a baking tray at crossways to each other. Place the cob in the centre of the cross and fill with pumpkin mixture. Put the lid back on the cob and wrap it in foil to enclose. Bake for 40 minutes, then remove foil and cook for a further 20 minutes or until the cob is crisp and cheese is melted and warmed through.
Meanwhile, place the reserved bread chunks on a baking tray and toast in the oven alongside the cob, until golden brown.
Heat a frying pan over medium heat and cook bacon until crisp and golden brown. Remove cob lid and sprinkle bacon over the hot cheese dip. Serve with extra crusty bread to dip in the centre.
---