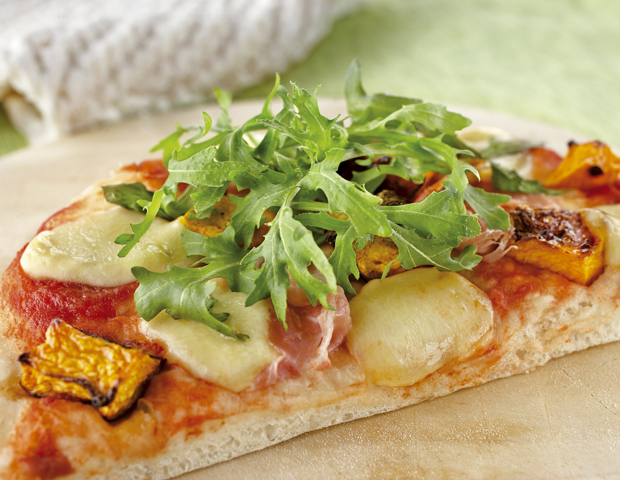 THE DAIRY KITCHEN
Prosciutto, Pumpkin and Bocconcini Pizza
By THE DAIRY KITCHEN
Hot straight from the oven, home made pizzas are so fresh and delectable with mouthwatering cheesiness.
Ingredients
7g ( 1 sachet) dry yeast
1 teaspoon sugar
185ml warm water
1 1/2 cups plain flour
1/2 teaspoon salt
1/2 teaspoon dried thyme leaves
300g pumpkin, peeled and cut into 2cm cubes
spray olive oil
freshly ground black pepepr
1/4 cup passata or Italian cooking sauce
100g bocconcini, drained and sliced
2 thin slices prosciutto, roughly torn
6-8 small basil leaves, roughly torn
50g rocket leaves
1 teaspoon red wine vinegar
Handy Tips
Passata is pureed tomato sauce available at the supermarket that can be used in pasta sauces, casseroles and for pizza toppings.
Nutrition (per serve)
| | |
| --- | --- |
| Energy (kj) | 1269 |
| Sugars (g) | 5 |
| Protein (g) | 14 |
| Dietry Fibre (g) | 3 |
| Fat Total (g) | 6.6 |
| Sodium (mg) | 606 |
| Saturated (g) | 3.2 |
| Calcium (mg) | 140 |
| Carbohydrates (g) | 45 |
| Iron (mg) | 2 |
Method
Place yeast and sugar in a bowl with the water. Whisk with a fok ,and set aside for 5-8 minutes until the surface becomes frothy and bubbly.
Sift flour and salt into a large bowl, making a well in the centre, pour in the yeast mixture, and mix with your hands until a dough forms. Turn out onto a floured benchtop and knead for 8-10 minutes until smooth and elastic. Place into a bowl, cover and set aside in a warm place for 30 minutes, or until doubled in size.
Punch dough down, place onto a floured benchtop and divide into two. Roll each portion into a 20cm circle, put onto a floured oventray, cover and set aside for 20 minutes.
Place pumpkin onto a lined oven tray, spray with oil and sprinkle with pepper. Bake at 200° C for 10 minutes, or until tender and golden.
Spread pizza bases evenly with sauce and top with pumpkin cubes, bocconcini, prosciutto and basil. Bake at 200° C for 10 minutes until the base and prosciutto are crisp and the bocconcini has melted.
Toss rocket leaves in vinegar and serve with pizza slices.
---