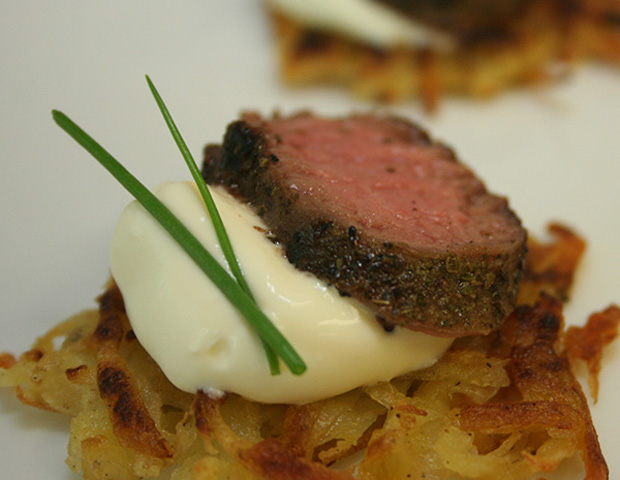 THE DAIRY KITCHEN
Potato Rosti with Sour cream and Lemon Myrtle Lamb
By THE DAIRY KITCHEN
Crisp rosti served with lemon myrtle lamb make an impressive starter for a special occasion.
Ingredients
1 (10g) fresh rosemary sprig
olive oil
375g waxy potatoes, peeled
50g butter, melted
salt and freshly ground black pepper
extra olive oil, for frying
2 teaspoons lemon myrtle
1 teaspoon olive oil
300g lamb fillet
1/3 cup sour cream
chives, for serving
Method
Place rosemary sprig on a baking tray and drizzle lightly with olive oil. Roast at 180°C for 10-15 minutes until crisp. Cool and then crumble the leaves.
Grate potatoes coarsely into a bowl of cold water, rinse then drain and dry the potatoes well. Place potatoes into a large bowl, stir through melted butter, crumbled rosemary and seasoning. Heat extra olive oil in a frying pan over medium heat. Drop heaped teaspoonfuls of the potato mixture into the pan, flatten slightly and fry for 3-4 minutes on each side until deep golden and crisp, drain on absorbent paper and keep warm.
Combine lemon myrtle, oil and seasonings. Toss lamb fillets in mixture to coat. Cook on a pre-heated grill plate for approximately 2 minutes on each side, until medium rare. Remove and rest the lamb for 5 minutes before slicing.
Dollop each warm rosti with sour cream, top with a slice of warm lamb fillet and finish with chives.
---