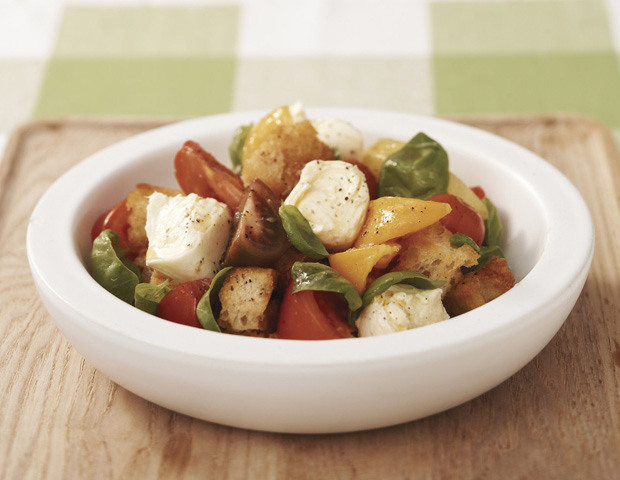 THE DAIRY KITCHEN
Panzanella Salad with Bocconcini
By THE DAIRY KITCHEN
Panazella salad is a wonderful way to use up leftover stale bread and make this gratifying salad with summer ripe tomatoes and bocconcini.
Ingredients
100g Italian style bread, crusts removed, cut into 1.5cm cubes
2 small cloves garlic, crushed
1 tablespoon olive oil
salt and pepper, to taste
1/4 cup quality extra virgin olive oil
2 tablespoons red wine vinegar
500g mixed tomatoes, cut into bite sized pieces
1/2 cup roughly torn basil leaves
1x 200g tub bocconcini cheese, drained, torn in half
Method
Toss bread cubes, 1 clove garlic, olive oil, salt and pepper, until coated. Spread on a baking tray and bake at 180°C for 15 minutes until golden and crisp.
Combine extra virgin olive oil, vinegar and remaining garlic, season to taste. Stir in tomatoes and sit for 10 minutes. Stir in bread cubes and basil until well coated, then lightly toss in bocconcini before serving.
---