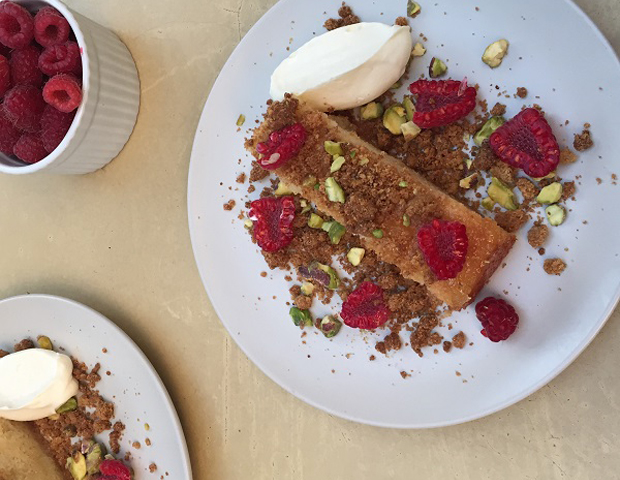 THE DAIRY KITCHEN
Orange and Ginger Semolina Cake
By THE DAIRY KITCHEN
Moreish and delicious, don't let the quantity of steps overwhelm you, as this cake is well worth the time and effort.
Ingredients
Salted Pistachio Crumb
30g brown sugar
20g Australian unsalted butter, chilled and cut into small cubes
45g self raising flour
1/2 teaspoon ground ginger
1/4 teaspoon sea salt
30g pistachios



Semolina Cake
3 large eggs
115g caster sugar
360g Australian Greek yoghurt
125ml vegetable oil
180g semolina
50g plain flour
1 teaspoon vanilla extract
½ teaspoon baking soda
1 teaspoon baking powder
½ teaspoon salt
Orange Syrup
300ml fresh orange juice (approx. 3 oranges)
zest of 1/2 orange
2 x 3cm slices of ginger
250g caster sugar
Lemon Yoghurt Cream
250ml Australian greek yoghurt
1 tablespoon icing sugar sifted
rind of 1 lemon, finely grated

Raspberries, cut in half to serve
Method
Preheat oven to 180°C (160°C fan forced). Place the sugar, butter, flour, ginger and salt in a food processor. Process until the mixture is crumbly. Add pistachios and pulse until pistachios are roughly chopped.
Spread mixture onto a tray lined with baking paper and bake for 20-25 mixture, stirring frequently, or until the crumb is golden. Allow to cool and set aside.
To make cake, grease and line a 22cm square baking tin with baking paper. Using an electric mixer on medium speed, beat the eggs and sugar until mixture becomes light and fluffy and sugar dissolves. Stir through yoghurt and oil.
Add the remaining ingredients all at once and stir very well until all of the ingredients are evenly incorporated and the batter is smooth. Pour mixture into prepared tin and bake for 25-30 minutes or until the cake is cooked in the centre when tested with a skewer.
Meanwhile, make the syrup by placing the orange juice, zest, ginger and sugar in a small saucepan and stir over medium heat until the sugar dissolves. Bring to the boil, reduce heat and simmer for 10 minutes or until syrupy and reduced by half.
Immediately pour the syrup evenly over the surface of the warm cake. Let the cake cool completely before removing from the pan.
Make the lemon yoghurt, by combining all ingredients in a small bowl until smooth. Chill for 30 minutes to allow to firm up.
To serve, cut the cake into rectangles. Sprinkle with the crumble, raspberries and a quenelle of yogurt cream.
i
---