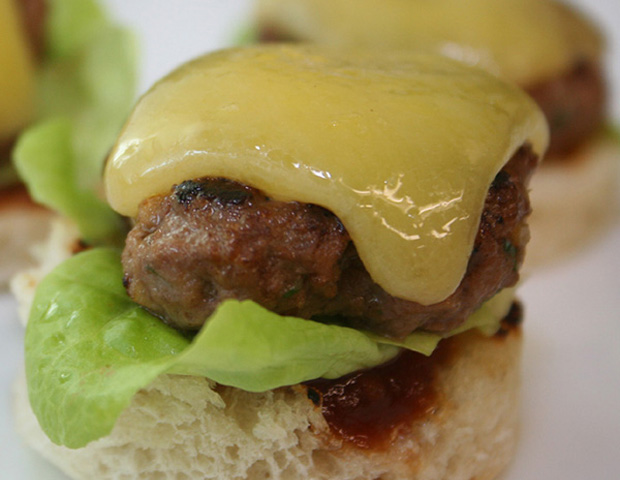 THE DAIRY KITCHEN
Mini Open Burgers with Cheddar and Bush Tomato Chutney
By THE DAIRY KITCHEN
These open burgers are ideal for serve at a cocktail party when a stomach filling favourite is desired.
Ingredients
250g Turkish bread (or other style flat bread)
375g lean beef mince
1/2 cup (10g) fresh breadcrumbs
1 tablespoon finely chopped parsley
1 egg
1 tablespoon bush tomato chutney
1 clove garlic, crushed
salt and freshly ground black pepper
1 tablespoon olive oil
80g cheddar cheese, sliced into thin squares
2 tablespoons bush tomato chutney, for serving
30g oak or butter lettuce leaves
Method
Slice the bread into two layers, then using a 4cm scone cutter cut rounds out of both halves. Brush rounds with olive oil and grill on a hot grill plate on both sides until lightly toasted.
Combine mince, breadcrumbs, parsley, egg, chutney, garlic and seasoning in a bowl and mix thoroughly until the mixture is sticky. Divide the mixture into 12 portions, using wet hands shape the portions into balls and then flatten into small patties. Heat oil in a frying pan over medium high heat and cook the patties for 1-2 minutes on each side or until cooked through. Place a slice of cheddar onto each patty and place in the oven on a lined baking tray for 2-3 minutes until the cheese just begins to melt.
To serve place a dollop of bush tomato chutney on each bread round, top with a small piece of lettuce and finish with a beef patty.
---